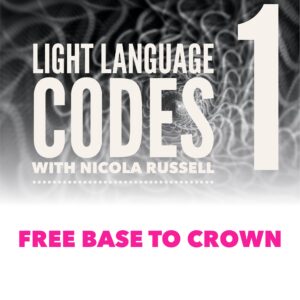 FREE – A Series of Light Language Codes with Nicola Russell – 1st Base to Crown Chakra Clearing
NOTE: All our courses are yours forever, once download they sit on your own personal Dashboard. We do NOT delete them.
Welcome to the free introductory foundation course – Chakra Clearing Light Language Codes. Base to Crown.
These light language codes are here to help you release collective density within your chakra system. Connect with me and use the codes with the intention to release the density held deep inside of yourself. These monthly series of videos hold upgraded frequencies to aid you in your shadow work. Whether you use them daily, weekly, or just once a month, these codes will help you until you feel ready to clear your own energy, paving the way to feel empowered in your journey.
Recommend: Intuitive Breath Mastery and The Invisible Self courses to help support your understanding of my work.
https://starseedyou.com/courses/intuitive-breath-mastery/
https://starseedyou.com/courses/the-invisible-self/