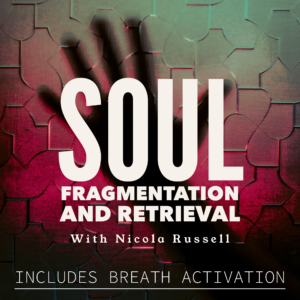 Understanding Soul Fragmentation – Self Healing with Nicola Lightworker
This Course Includes a Light Language Breath Activation
Do you feel disconnected? Are you on your ascension journey and want to know about this interesting subject? Want to know more about soul fragmentation and the retrieval of your fragments?
The importance of understanding your energy is essential through your awakening journey. With this information, you will be able to adjust your energetic field and bring in lost fragments of your soul throughout all time and space. Our lost fragments once integrated bring us many gifts and enable us to heal so much deeper. This skill is empowering. 
Letting you attract your soul's power back into oneness to all that is.
Along with understanding your deep core wounds, general energy awareness, how to clear your energy, and intuitive breathwork courses, this course will help you on your own healing journey. I would also recommend Energetic Emotional Release Therapy, which consolidates all of the information provided throughout all the other courses. 
Once you have mastered how to heal yourself you may even want to become a Quantum Energy and Sound Healer, to heal others.
There are layers of soul retrieval, this course will bring back the soul fragmentations.