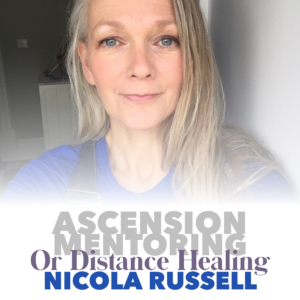 Ascension Mentoring OR Distance Healing Session with Nicola Russell
Ascension Mentoring Session with Nicola Russell
Do you feel you need something more in your life? Bored with the same old job, relationships, experiences? Upset with the world around you? You just do not feel you fit in. There is something you need to do here, something you have forgotten.
It is time for the great awakening, as a collective and most importantly YOU. It is time to put away your old belief systems, old ways, old relationships, and bring in the new. It is time to wake up and remember who you are. 
Where to start…?
Start your journey by downloading online foundational information courses. This saves you time and money on your one-to-one mentorship sessions. The information is accessible at all times. Choose from the following courses available, We recommend Intuitive breath mastery and The invisible self to begin with this will give you a firm foundation, understanding, ready for your one-to-one sessions.
No ordinary mentorship program – remembrance into the light is a program that has been brought together over years of experience showing you the way forward into your light. This program is tailored to your needs. Remembering who you are and why you are here.
Energetic upgrades during your sessions
During the sessions, you may also receive downloads of Light language coding and collaboration of your energetic field. An amazing bonus to working with Nicola Russell.
Note: All the information is from Nicola's perspective and gained through her intuitive insight and divine intuitive direction.
Or BOOK A DISTANT HEALING SESSION
Distance Healing Session with Nicola Russell
Advantages of Distance Healing Sessions
What are the advantages of having a distance healing session?
From Your Perspective:
Having a distant healing session gives you an understanding of self-empowerment. The clarity of mind to be worked on from a distant source will enable you to open up deeper and wider into your healing journey. This understanding of your energetic field allows the ego-mind to be released, to allow a higher understanding to be experienced. When you allow and observe the experience without a conversation before and after you can find yourself deepening your own understanding of your soul. A complete detachment from myself and YOU, will bring in higher levels of consciousness. This integration of higher resonances of energetic flow will help deepen the healing of deep core wounds, blocks, past traumas, emotional states, cords, contracts, throughout all time and space. 
Not only that, a distance healing will give you privacy, time to integrate without interruptions, clarifying your inner journeying from a conscious state of mind. The report sent after the healing will give you an understanding of the process achieved and ongoing information for future healing sessions or self-healing experiences. 
From My perspective:
A distance healing enables me to completely let go of my ego-mind. Stopping any questioning of concepts, the judgment of myself. This deepens the connection and allows me to fully flow in the experience. My higher self and multidimensional aspects are able to reach deeper core wounds, higher levels of consciousness as a result of taking out the human mind, which sometimes influences the experiences and creates slight doubts and blocks within the healing process. Distant healing brings clarity to the whole mind, resulting in an intensified experience and results. 
An option of a recording of distant healing is also available to you. This enables you to revisit any light codes for future healing experiences. Playing back the recording may have layers of codings that will intensify your healing journey. This is not always the case, depending on the healing session and intentions set. 
Because of the nature of the healing, it is important to set your intentions when booking your session. There is a form to fill out on booking, please consider what intentions serve you well. The intention from my perspective is always for your highest good and the expansion of your soul. I take care to release everything that is available to leave your energetic field throughout all time and space. Please be aware, your soul has a full understanding of our connection and will create only the best for you to move into a higher level of consciousness and understanding of yourself. 
NOTE: When I connect with you after booking, we can finalize which of the sessions you require- Mentoring OR Distance Healing Session