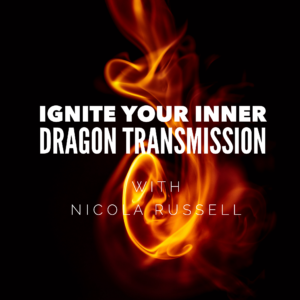 Ignite Your Inner Dragon Transmission with Nicola Lightworker
On a monthly basis, I am offering group healing sessions. This transmission was the main transmission of that event. September 2021.
If you missed it and wanted to attend here is the opportunity to listen to the Light and Fire codes,
The session was all about activation and the connection to the higher self and multidimensional aspects. To my surprise, we had activations of Dragon energy and a sense of Unity being held within our energetic field. This session was intense and allowed us to upgrade our levels of connection. Igniting the inner dragon energy, held in the solar plexus, will bring you a sense of power and sovereignty.
Keep an eye out for the next live event on Zoom. Here we experience a connection to other like-minded souls, Allowing us to upgrade through experience, conversations, and extra Light transmissions and understandings throughout the event.
October Event is available to book on our event section.
https://starseedyou.com/events/higher-self-and-multidimensional-connections-1-clearing-with-nicola-russell-723-195/?occurrence=2021-10-23
Nicola x