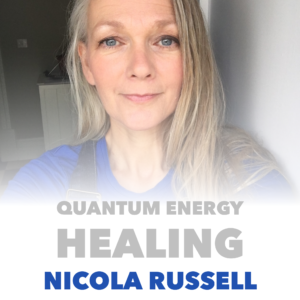 A 90 Minute Healing Session with Nicola Russell – Internation Quantum, Energy and Sound Healer
Are you feeling restricted with expanding your levels of consciousness? Feeling you are not moving forward in your healing modality? Blocked with understanding your soul journey? Needing assistance integrating multidimensional aspects, fragmented soul aspects, throughout all time and space? Then you need to book your upgrade, activation, integration, now.
General Quantum Energy and Sound Healing
Integration of Multidimensional Aspects and Soul Fragmentation
Inner Child Healing and Connection to the Higher Self
Energetic Marriages for New Relationships
I am a Multidimensional Quantum Energy and Sound Facilitator/ Healer, Pure Channeller, Trance, Light Language channeller.
My Energy Healing facilitates high vibrational energies direct from Source, Channelled Higher Self, Multidimensional Self, and Guides. I also heal in a Trance state and Psychic Surgery. Sound healing is facilitated through my voice. Toning and light language.
Every healing is bespoke to the individual's needs. Start your journey with Energy and Sound healing and later as you evolve reconnect with multi-dimensional healing. My healing modality has changed and is always evolving, I never know what I am going to unveil, it is a beautiful experience for me to help you on your journey.
Releasing blocks and low frequencies. Once cleared to the degree available, I replace the void with high vibration light.
The experience is surreal and sometimes you will need to integrate the experience into your new reality. The unpacking of this process is highly recommended. I am available to help you after your healing if you have any questions about your onward journey.
My healing is like a box of chocolate, you never know what you are going to get!
Online healing sessions are just as effective as one-to-one in person. I connect with you through Zoom, FaceTime, Messenger, WhatsApp, and Skype.
My modality has shifted: being able to facilitate your healing, at the same intensity, even if you are not in the room, a Global client list from Siberia to Thailand, the USA to Australia, I can connect to you where ever you are in the World.
Again a surreal experience, my recent clients have had major shifts from the release of low-frequency timelines and integration of multidimensional aspects. My client base tends to be of healers and souls that are on their ascension journey. I am looking forward to helping you rise.
Nicola Russell