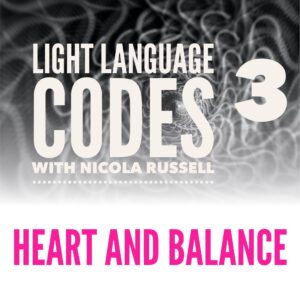 A Series of Light Language Codes with Nicola Russell – 3rd of 8 Series Heart and Balancing of your Energy
NOTE: All our courses are yours forever, once download they sit on your own personal Dashboard. We do NOT delete them.
Let these codes pave the way for a greater connection to self.
Moving through the year now into February, we are expanding our awareness into the remembrance of our sovereignty. These codes will assist you in clearing density within and without your field, detaching you from past relationships, and expand you into higher levels of consciousness connection.
This course will create a greater understanding of your reality from your inner understanding of self. Big things are happening here on Earth, The more aligned you are in your energetic field the better. Enjoy!
Nicola x
NOTE: January codes are still available until the end of February, these codes are a great foundation for February codes and will be useful to you to expand your crown into higher grid levels of consciousness.
https://starseedyou.com/courses/chakra-clearing-january-2021-light-language-codes-with-nicola-russell/