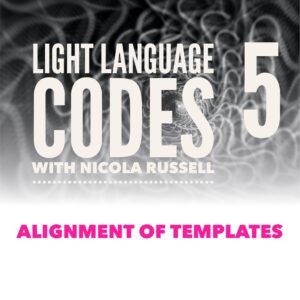 A Series of Light Language Codes with Nicola Russell – 5th of 8 Series Alignment of Templates
Following on from January, February, and March's codes, April is now available.
There are 3 Transmissions adjusting your heart to higher levels of consciousness, heart to lower chakras, adjustments of template systems, balancing your energy to hold more light. transmutation through the heart chakra. Explanations of the transmissions are included to help you navigate and gain a higher level of understanding of the light codes. All for your greater good and the evolution of your soul.
These light language codes are here to help you adjust your energetic field and upgrade your gridwork systems, held within your energetic field. Releasing energetic blocks. Enable yourself to move into connecting with these codes, empowering yourself to flow into your sovereignty.