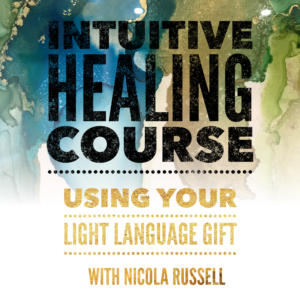 i
The Intuitive Healer Course 
A Transformational Course – Moving you into experiencing the true healer that you are
Advanced Understanding Light Language Course with Nicola Russell
– Dialects, Fire Codes, and Using your Gift in Your Own Healing Modality
Nicola Russell has been practicing using Light Language in her healing modality for over six years now, and has built up a firm foundation of understanding of how to use your gift of Light. A Galactic Shaman, Multidimensional Healer, Mentor, and Speaker, Nicola is extremely passionate about Light Language and empowering you to heal yourself. Not only this, but to step forward and be the healer of others on their healing journey too, using your activated Light Language gifts.
Additional NEW Information!
Five Recordings are also included within the The Intuitive Healer Course,
All from Live Events. Nicola Pure Channelled information to expand the information on the following subjects:
Pure Channelling, Distant Healing, Quantum Field, Toning and Breath, Mindset and Empowerment.
(These recordings can be purchased separately.)
This course also Includes 3 x Light Language Transmissions
Acceptance and Receive, Release and Breath in Your Light, and Activations for Higher Connections.
NOTE:
I would recommend Understanding Light Language Course as a firm foundation for understanding your gift.
https://starseedyou.com/shop/understanding-light-language-with-nicola-russell/